"Naughty"meets "3 Dizzle" : As they team up to prove that Bahamians can write and perform Hip hop Gangster rap. 3 Dizzle is currently recording two Albums simultaneously one of which is Hardcore and the other commercial. Local Radio station Mix102.1 currently feature a number of 3 Dizzle's songs in regular rotation.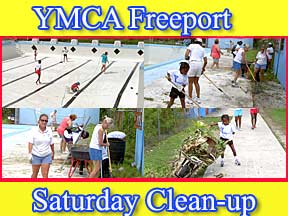 Community spirit lives - Families and friends of the Grand Bahama YMCA got together Saturday, September 24th, as part of an on going program, to do a major clean-up. The YMCA experienced extensive damage during Hurricanes Jeanne & Frances last year. More volunteers and local and international contributions are needed.

Wilfred Solomon & The Magnetics: A long time in coming - "The Best of #1" by Wilfred Solomon & his Crew has been released. Long time visitors to Grand Bahama would remember Wilfred Solomon and The Magnetics from their live performances on the beach at The Xanadu Hotel. This album is the first in a series of compilations.

Vocalists Super D and Ninjah Kat - Join forces to cut intense vocal tracks at Mackeymedia on a hot new track programmed by Lion Of Judah Sounds, a highly talented new Bahamian production team that is creating excellent work. Congratulations to Super D on his new Management contract with Harryette Crowell.