Swain departs the secular world: Long time Bahamian Vocalist/ Entertainer bids farewell to the secular music world with his final mainstream effort entitled "Here's to The Lady". Swain's dynamic vocals from now on will only be heard on Gospel recordings.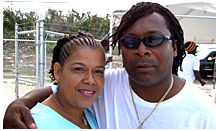 May 14th, 05 Popular Bahamian Entertainers "Nita" (Left) and Stevie S."(Right) rolled into Grand Bahama to perform at Coffee's Sports Bar & Grill for official opening of that establishment in West End Grand Bahama. The well attended event was hosted by popular 100JAMZ radio personality "JJ" pictured below (right). Also pictured are De andre Hamilton (center) publisher of "The Christian Times" (soon to be renamed "The Kingdom Times) and a very good friend of JJ (left), that picture was taken at the site of another 100JAMZ live remote broadcast earlier the same day at "Stop N Wash" a newly constructed laundry mat owned and operated by young successful Bahamian entrepreneur Keith Rolle. It is located in the new Britannia subdivision next to Caravel Beach. The marching band picture was taken on the way to Coffe's Sports Bar and Grill in West End, it is The Eight Mile Rock High Marching Band.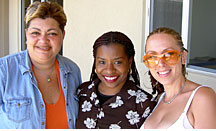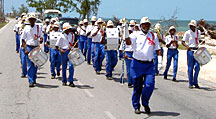 Grand Bahamian Rap group R.U.G.E.R. in full effect at Mackeymedia "spitin" out the final tracks for their soon to be released debut album. The group is well known for their strong hard hitting lyrics on tracks like "No NO NO", "Haters", "Don't Know", "Shake Dat Ting" and more. The planned release date for this album is February 21st, 2004. Pictured from L-R are "Bangah", "Kill the Flow", "Soldier" & "CEO". A number of the tracks are hardcore.

"Discover Discovery Today": Janet Albury President of Grand Bahama based Marketing Company VIP Services poses along with Producer/Engineer Dave Mackey of Mackeymedia at a Local Radio Station interview launching the song "Discover Discovery Today". The song composed and arranged by Dave Mackey with lead vocals by Methice Rigby, was written to promote cruises to Grand Bahama onboard Discovery Cruise Line. In addition to showing that Half the fun is getting there", Discover Discovery Today" highlights the fun things available to do on Grand Bahama Island. The song was composed and produced under the stringent Guidelines set out by Executive Producer Hanns Hahn manager of Discovery Cruise Lines. The project was coordinated by Janet Albury.