All Smiles: (L-R top row Dave Mackey, Ronnie Butler. Bottom Row L-R Sweet Emily & Frances S. Hayward.) After completing the recording of vocals on the catchy up tempo Bahamian song entitled "Amigo", composed by Frankie Sinclair, Popular Bahamian Entertainers/ Vocalists Ronnie Butler and "Sweet Emily" pause for a photographic moment. The song Amigo tells an affectionate tale of a stray dog that is found, taken well care of and becomes a big star. Major plans are underway for the promotion of the song "Amigo" a true story.

Minerva Bowe & Marina Gottlieb join voices at Mackeymedia to record a special Christmas album for top Grand Bahama based Real Estate company James Sarles Realty. Mr. Sarles and his staff came up with the creative idea to produce a local Christmas album as a gift for their worldwide valued customers and friends. Marina's rendition of "Santa Baby" in particular, was creatively transformed into a humorous James Sarles Realty jingle! Marina Gottlieb is the sister of the late Cay Gottlieb. This album is only available as a gift.

Dynamic Bahamian lead vocalist Super D and his Manager Harryette Crowell. out on the town at popular Grand Bahama late night eatery and hang out Ruby Swiss Restaurant after the successful launch of his new album entitled "More to come". The album title is of significance because this initial release comprises 4 songs. "More to Come" was recorded and mixed at "Lion Of Judah Dublab" and Mackeymedia. The project was mastered at Mackeymedia. Bahamian reggae artist "Ninjah Kat" is featured on the track "Song for Papa". Super D's vocal versatility is well displayed on this mini album.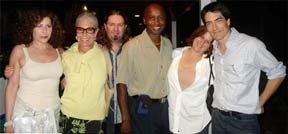 "Amigo" State of The Art Music Video: Filmed on Grand Bahama Island. Pictured (L-R) are the key players that made it happen: Randi Willins (video executive producer), Frankie Sinclair (Composer & overall project executive producer), Jackie Lee Morgan (line producer), Dave Mackey, Sandy Lighterman (producer), Eric Heimbold (director). Oct. 13, 2003 For more information email: promotions@mackeymedia.com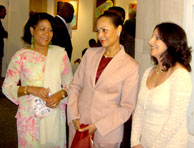 Chantal Bethel and Claudette Dean's "Timeline" Art Exhibit draws huge crowd of dignitaries, artists and art lovers including Mrs. Bernadette Christie wife of The Hon. Perry Christie Prime Minister of The Bahamas, Dr. Marcus Bethel (Minister of Health), Columnist Nikki Kelly, Antonius Roberts and National Art Gallery board members. The Art Exhibit took place Saturday, March 11th, 2005 at The Central Bank Of The Bahamas Downtown Nassau. The DVD movie "Timeline" produced & created by Mackeymedia projected on a large screen chronicling the lives of the two creative artists received rave reviews. Pictured (L-R) are Chantal Bethel, Mrs. Christie & Claudette Dean. To View Photo Gallery click here or on the image.