Blueprint for New Tourism Citing a need to look beyond short-term considerations and focusing on benefits not only for people who travel, but also for the people in the communities they visit for their natural, social and cultural environments, the World Travel and Tourism Council has recommended a blueprint for new tourism. According to the WTTC report new tourism "dares to embrace a new dimension of Travel and Tourism. It is a mature response to a more complex world. Global consciousness of the importance of tourism has triggered a fresh look at the opportunities it represents. New Tourism is a new sense of coherent partnership between the private sector and public authorities. It is geared to delivering commercially successful products – but in a way that ensures benefits for everyone." To view the full text of Terrance Roberts entire address to the Rotary Club of Lucaya on Tuesday October 4th 2005 click here or on his image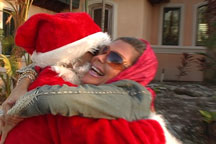 James Sarles Realty TV Commercial / Music Video making waves on local Bahamian TV Station ZNS, Galleria Cinemas & on the Web. Mackeymedia had the exhilarating opportunity to produce a Music Video style TV commercial for leading Grand Bahama Real Estate Company James Sarles Realty. The Video stars the staff of James Sarles Realty: James Sarles, Catherine MacLeay, Jan Lowe, Ollie Ferguson, world class Saxaponist Ralph Munnings & Tia Rhaming. The vocals were performed by Marina Gottlieb Sarles who cleverly adapted the lyrics of the song "Santa Baby" into a witty one minute James Sarles Realty ditty. The music was recorded at Mackeymedia and the Music Video/ TV commercial was directed by Dave Mackey. The Assistant Director was Christina Mathaei who was also the set coordinator. Click on The picture to view this entertaining production. Enjoy!

Wilfred Solomon poised to do great musical things on "solid ground". Wilfred Solomon is on hiatus from his long stint with The Disney Wonder Cruise Line. In response to his fans, Wilfred has announced plans to perform at other venues until his return to sea. Many will remember Wilfred Solomon's days with The Magnetics when he performed at The Xanadu Hotel. Some of their hit songs were "Andros Island",

"

Talkin' Fool", "Hungry man" and "Don't squeeze me". Those interested in contacting Wilfred for CD copies or live performances in the Bahamas and otherwise can email jimcrow@myway.com.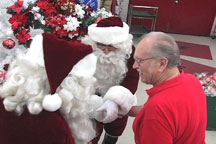 Dolly Madison Home Center presents a Christmas Story of how Santa traveled from the North Pole to shop at Dolly Madison Home Center as a result of the Elves Workers Union making the North Pole prices too high. After Craig Stewart locks up Dolly Madison, The Boss, Don Roberts Sr. is startled by the moving image of Santa on his security monitor. Initially he thinks its a thief until Santa's Eagle flies into his office with a blank check from Santa drawn on The North Pole National Bank. The story unfolds into a fun filled production staring Paul Francis (The Crazy White man) as Santa, Don Roberts Sr. (The Boss) & Craig Stewart. The story concept was developed by Don Roberts Sr. & Dave Mackey. It was produced by Mackeymedia & Directed by Dave Mackey. Click on the picture above to enjoy this heart warming video production!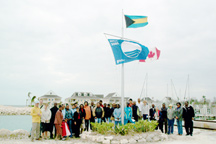 West End, Grand Bahama Island – Old Bahama Bay, Grand Bahama Island's premier 49-room resort, residential and marina community received the prestigious environmental Blue Flag award from the Foundation for Environmental Education during an award ceremony at the Marina at Old Bahama Bay on Saturday, Feb. 5, 2005.

Guitarist Audley Russell (L) and songwriter/ producer Peter Duncombe (R) pause after an intense rhythm session at Mackeymedia. Peter Duncombe is in the process of completing his song entitled "Junka Beat Rhapsody", a tribute to his close friend and Junkanoo drummer. "Brad". Brad (recently deceased) played the goatskin drums and cowbells on Junka Beat Rhaposdy.

Grand Bahamian Artist Chantal Bethel and The Hon. Dr. Marcus Bethel The Bahamas Minister of Health pause for the camera. Minister Bethel took time off his hectic schedule to support his wife, Chantal's creative side. The incredible artistry of Chantal Bethel was on display at The Rand Nature Center's "Festival Noel" Art Exhibition December 2003.

Gary Davis (L) and Cha Sears (R) join forces to produce a new art form. Modern Philosophical Poet/ Writer Cha Sears and Legendary Bahamian Guitarist/ Songwriter & Vocalist Garry Davis have commenced a new recording project that incorporates the poetry of Cha Sears together with Garry Davis' dynamic guitar playing. The methodology of this project defines this album as a new art form, a must hear. Mackeymedia will continue to provide updates as this project progresses. To get a taste of Cha and Garry in action interested persons can Check Out Island Groove "Open (Mic)rophone" night at Club Caribe in Grand Bahama the 2nd Saturday of every month at 7PM. For more info. email: browngalme@hotmail.com.