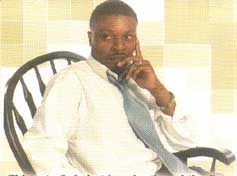 Zhivargo Laing Explorers lessons in God, Critics, Power, Friendship, hope, Stewardship and more in his motivational album "Profound Life Lessons" recorded at Mackeymedia. This album will indeed inspire you. The background music for this project was composed by Dave Mackey from his unreleased "Adventures in music" album. For more information and to purchase copies call (242) 351-6575. The Hon. Zhivargo Laing was a cabinet minister during The RT.Hon. Hubert Ingraham's tenure as Prime Minister Of The Bahamas.
Recording their campaign ads at Mackeymedia - Freeport city council winners Alvin Smith (top left) High rock constituency winner & his Wife. Anita Doherty winner Lucaya constituency (top right) .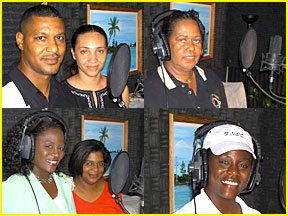 April C. Gow (bottom Left) High rock constituency winner & Robin Adderley (ROAD Marketing). Anita Doherty was unanimously voted Chief Councilor, April Crowther Gow was voted deputy chief.

Back in action
,
well loved Grand Bahamian Entertainer Little Joe Cartwright has resumed his long time tradition of recording his original compositions. This time Little Joe is dealing with the theme "Jail Bait" a song composed by Jack Parker, C.J. and himself, this song utilizes humor and an infectious island beat (arranged by his son C.J.) to communicate the controversial topic of older men and "too young women". Little Joe Cartwright is a long time favorite artist of visitors to Grand Bahama. For many years he performed at Port Lucaya market place, The John B Club and further back, at West End Jack Tar Village. Little Joe will be releasing an entire album within the next few weeks. Mackeymedia will keep you posted.

Stone McEwan returns with a hot new album entitled "Don't Touch It If You Can't Handle It" and "Thunder" his new band featuring Herbert Milo Knowles on percussion, Wesley Cornish on bass and state of the art digital technology to deliver audiences a full live sound. Stone and Thunder now perform at The Conch Inn in Marsh Harbour Abaco and at Nippers on Guana Cay. The album "Don't Touch It If You Can't Handle It" has received positive acclaim from international and Bahamian listeners alike. In the Bahamas the favorite tune is "Party Movin". The album was Written produced, performed and arranged by Stone McEwan at Mackeymedia. This album is not your typical island album, Stone's production style utilizes more of an international approach. Email Stone McEwan at: stonemcewan@yahoo.com.

Amigos Sweet Emily & Ronnie Butler lay down dynamic vocal performances at Mackeymedia on the song "Amigo" composed by Frankie Sinclair. Ronnie Butler, a recent prestigious Bahamian Cacique life time achiever award winner, and Sweet Emily "The Queen of Junkanoo" are well known through out this region for their island flavor hit duets and solo efforts. A world class "Amigo" music video directed by Eric Heimbold was produced in November 2003 on Grand Bahama Island.

Grand Bahama's favorite radio account executive Desi Wallace in the studio to supervise the production of one of her numerous radio scripts. Desi is an events planning specialist on a national scale. She has spearheaded all type of events ranging from major concerts to sporting events. Her knowledge of the Bahamas legal framework makes planning a successful production a breeze. Serious concert promoters and agents wanting pull off successful events in the Bahamas would do well to contact her at (242) 352-6608.

Leading Junkanoo producer/ Composer/Engineer Fred Ferguson and Oswald Bowe (in house Compass Point Studios Engineer) at Compass Point Studios, Nassau Bahamas. Mackeymedia enlisted the services of Junkanoo expert Fred Ferguson to assist on the Junkanoo section of the Amigo song composed by Frankie Sinclair. Fred was indeed a welcome addition to the studio session.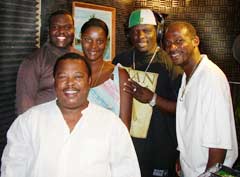 Little Joe Cartwright (front) and his entourage of band members and guest artists are back in Mackeymedia to continue the recording of his new album. The latest song in production is called "Say What". The hook phrase "Show your I.D. when you come to see me" sums up the message of this song to older men and females that are too young. In the rear row L-R is C.J., Lady Sho, Super D and Lord Byron, the Limbo dancer from Port Lucaya.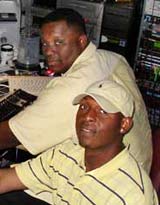 Turks & Caicos and The Bahamas connect at Mackeymedia- Shane Kemp (L) manager of "Provo" based gospel group "Radical Brethren" and executive producer Vanrico Hanna (R) made a special trip to Freeport Grand Bahama from The Turks & Caicos Islands to master the album project "Before and After Salvation" at Mackeymedia. The album combines modern reggae with smooth soprano sax, hype vocals and modern Keyboard effects. Radical Brethren plan to release the album late March 2004. For more info. Email: radicalbro@hotmail.com.